Welcome to the bridge making tutorial.
Here we will explain how to use the bridge you've downloaded at Zoo Admin.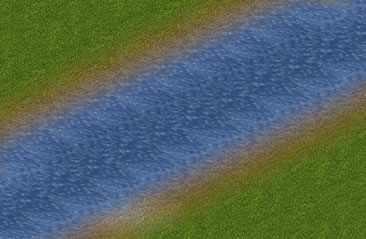 1. First start by making a river or editing an existing river in your zoo for your bridge to span. In this example the river is 6 tiles wide.
*Tip: Using darker water near the center of a river allows for the illusion that the water is deeper in that section.
( 1. Zuerst machst Du einen Fluss oder bearbeitest einen, der schon da ist. Hier im Bild ist er 6 Kästchen breit. *TIP : nimm' dunkles Wasser in der Mitte, damit er dort tiefer ausschaut. )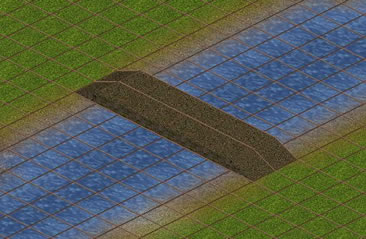 2. Next raise an 8 tile long section of land that spans the river by one level. The tiles on either end of the raised land should be slanted as seen in the picture. Applying another terrain will make distinguishing the raised land easier.
( 2. als nächstes erhöhe einen 8 Kästchen langen Abschnitt um 1 Stufe. Die Endkästchen sollen abgeschrägt sein, wie hier im Bild zu sehen ist. )
3. Using the small rock wall outline the raised land as shown in the picture. This step is not necessary but will eliminate an in-game error from showing up. This error is as shown in the screenshot on the right . This error only occurs on one view, if this doesn't bother and you prefer not to use the rock wall you may skip this step.
( 3. Platziere den kleinen Stein Zaun am Brückenrand. Dieser Schritt ist nicht unbedingt notwendig, verdeckt aber einen kleinen Fehler, der im rechten Bild zu sehen ist. Wen dieser Fehler nicht stoert, der überspringt Punkt 3 )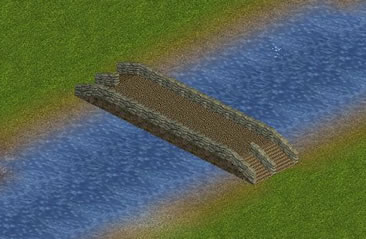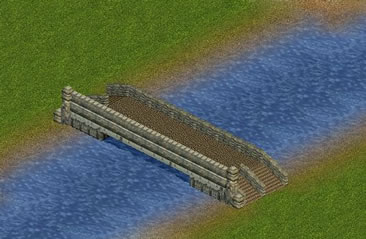 4. Find the concrete bridge located under scenery. Rotate the panel until it is parallel with the raised land and place as shown below.
( 4. Wähle das Brücken Element aus dem Zoo Objekte Menü aus und drehe es, sodass es parallel zum erhöhten Abschnitt steht. )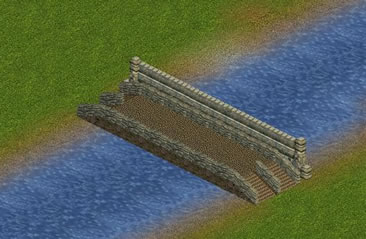 5. Rotate the map twice so that that side of the bridge you've already placed is on the opposite side. Place the second section in the same manner as the first by rotating the panel until it is parallel with the raised land.
( 5. drehe die Karte zweimal, sodass das eben plazierte Brücken Element auf der gegenüberliegenden Seite ist. Jetzt kann das zweite Element angebracht werden.)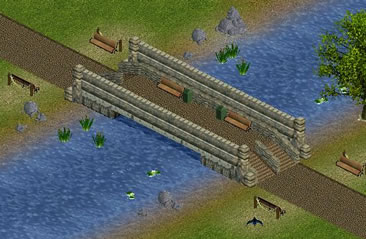 6. Now that the bridge is complete you can connect it to your existing path network of your zoo. Not only will guest be able to commute over water but also they will get a small esthetic bonus from the bridge. You can also take the time to add some much needed décor to the river or banks by mean of benches, trees, or rocks.
( 6. Die fertige Brücke kann nun an das Wegsystem des Zoos angeschlossen werden und mit einigen Objekten wie Bänken, Bäumen oder ähnlichem dekoriert werden.)
Other possible uses of the bridge :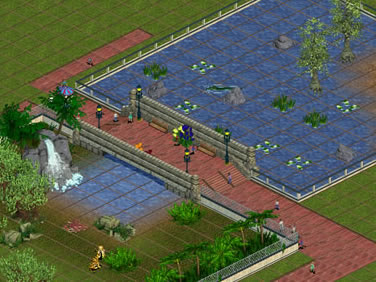 When using the low brick wall or the ZTU invisible fence you can make a brige between two exhibits which allows them to appear to be sharing a common pool of water.
( mit Hilfe des Kleinen Stein Zauns oder dem unsichtbaren Zaun von ZTU kann man eine Brücke zwischen zwei Gehegen bauen, damit es aussieht, als ob sie ein Gewässer teilen )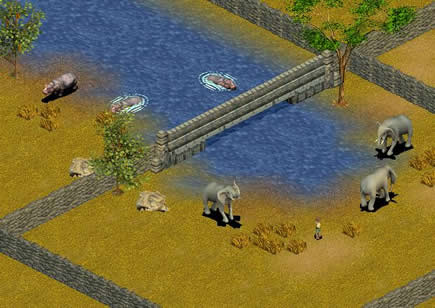 Another use of the bridge is to use it as a barrier wall between two exhibits. Simply place ZTU invisible fence behind the bridge panel and you have what looks to be a solid barrier that still allows the animals to share pools of water.
( eine andere Möglichkeit sieht man hier im Bild , wieder in Verbindung mit dem unsichtbaren Zaun von ZTU - Zoo Tycoon Unlimited )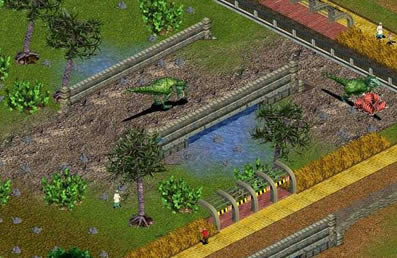 Lastly the bridge can be used inside exhibits to create a interesting effect. ( screenshot made by Pixigger )
( Die Brücke kann auch innerhalb der Gehege verwendet werden )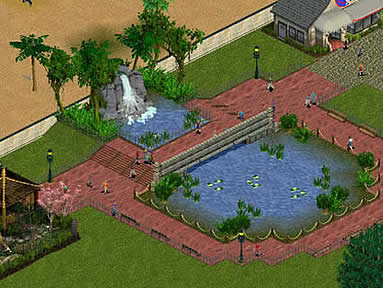 Yet another creative idea. Thanks to c.j. from the tycoon resource forums for use of the pic.
( und noch eine weitere Idee . Vielen Dank an c.j. vom TycRes Forum für das Bild )
Enjoy the bridge !
Thanks to Markbell for fixing the rotations, to Pixigger for the tutorial idea, to all the testers involved, and Loewenfrau for hosting this tutorial. Questions or comments may be directed to either Frogman or Loewenfrau by means of a private message at ZA.